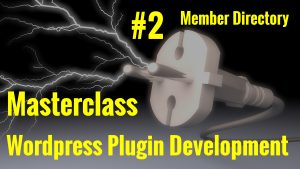 Create a Member Directory Listing Plugin with Custom Post Types and Custom Taxonomies
This course will show how to create a member listing plugin.
The plugin was originally a request from a client of mine, so this is a real-world example that I have developed in a similar manner for a real customer.
It is using the plugin template from Hugh Lashbrooke.
It's also using a plugin for custom fields (CMB2).
The finished plugin will have these features:
1) It defines a custom post type "directory." 2) It defines a custom taxonomy "cities" for the directory entries. 3) It adds the custom fields "Company Name" and "Address." 4) It creates a shortcode to display a search form on a page. 5) It implements a custom WordPress query to search by name and taxonomy.
The class contains step-by-step instructions to make it easy to follow the instructions. You can also download the final plugin and just use it and make your own modifications to it.
Find it on Skillshare: http://skl.sh/2ojr5Ad
or get it here on Udemy for $10 (92% off the regular price for a limited time):
https://www.udemy.com/wordpress-developers-create-a-plugin-2-member-directory/?couponCode=INTRO_10